Introduction from Drug peptide supply about:Tetrapeptide-21/960608-17-7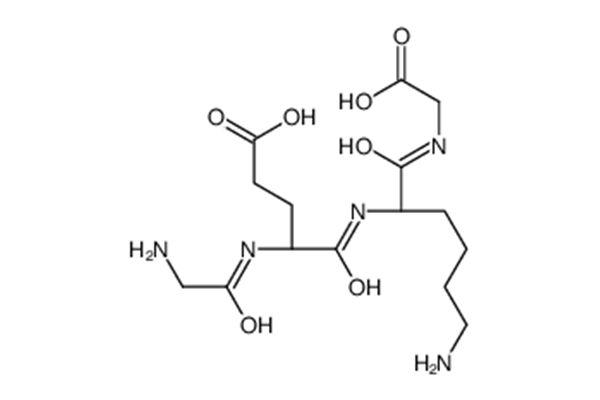 | | |
| --- | --- |
| English name | Tetrapeptide-21 |
| Chinese name | 四肽-21 |
| CAS NO | 960608-17-7 |
| Peptide sequence | Gly-Glu-Lys-Gly |
| Molecular formula | C15H27N5O7 |
| Molecular weight | 389.4 |
| storage temperature | 2-8℃ |
| purity | ≥98% |
| Package | 1mg;5mg;10mg;50mg;100mg,1g or according to customer's detail requirement. |
| Product English synonyms | (4S)-4-[(2-aminoacetyl)amino]-5-[[(2S)-6-amino-1-(carboxymethylamino)-1-oxohexan-2-yl]amino]-5-oxopentanoicacid;Glycine,glycyl-L-α-glutamyl-L-lysyl- |
Introduction of Tetrapeptide-21
Tetrapeptide-21 is a tetrapeptide derived from the skin itself. It has a unique structure and can promote the synthesis of extracellular matrix, thereby reducing various wrinkles and improving skin aging. Compared with the very popular base peptide (Matrixyl) on the market, the effect of tetrapeptide-21 is more prominent.
Mechanism of Tetrapeptide-21
Tetrapeptide-21 is a cell communication peptide that protects against damage caused by UV radiation. Tetrapeptide-21 increases the amount of collagen metabolized in the supernatant of human skin fibroblasts, further increases the expression of genes for key ECM proteins such as collagen I and fibronectin, and stimulates the production of hyaluronic acid . The cell communication peptide tetrapeptide-21 fuses several amino acid chains, which in turn improves extensibility and reduces the volume of wrinkles and wrinkles.
How to buy  Tetrapeptide-21 in the U. S.
Peptide supplier remetide specializes in the production and sales of It in the USA. Professional Drug peptide R&D.Professional drug peptide seller. Welcome your purchase
Hot line:+19498788363
Wechat:americhina
Email:amin@remetide.com