Introduction from Drug peptide supply about:Acetyl Decapeptide-3/935288-50-9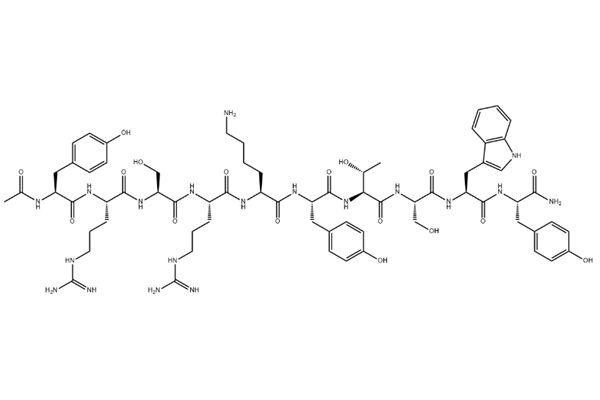 | | |
| --- | --- |
| English name | Acetyl Decapeptide-3 |
| Chinese name | 乙酰基十肽-3 |
| CAS NO | 935288-50-9 |
| Peptide sequence | Ac-Tyr-Arg-Ser-Arg-Lys-Tyr-Thr-Ser-Trp-Tyr-NH2 |
| Molecular formula | C68H95N19O17 |
| Molecular weight | 1450.6 |
| storage temperature | 2-8℃ |
| purity | ≥98% |
| Package | 1mg;5mg;10mg;50mg;100mg,1g or according to customer's detail requirement. |
| Product English synonyms | |
Introduction to Acetyl Decapeptide-3
Acetyl decapeptide-3, as a messenger peptide, stimulates the synthesis and development of collagen (type I, II, IV) and elastin in the dermis of the skin.
The mechanism of acetyl decapeptide-3
Acetyl decapeptide-3 can penetrate the dermis to increase collagen, reverse the process of skin aging by rebuilding from the inside out; stimulate the proliferation of collagen, elastic fibers and hyaluronic acid, improve the skin's moisture content and moisture retention, Increases skin thickness and reduces fine lines.
How to buy Acetyl Decapeptide-3 in the U. S.
Peptide supplier remetide specializes in the production and sales of It in the USA. Professional Drug peptide R&D.Professional drug peptide seller. Welcome your purchase
Hot line:+19498788363
Wechat:americhina
Email:amin@remetide.com