Introduction from Drug peptide supply about:Oligopeptide-10/466691-40-7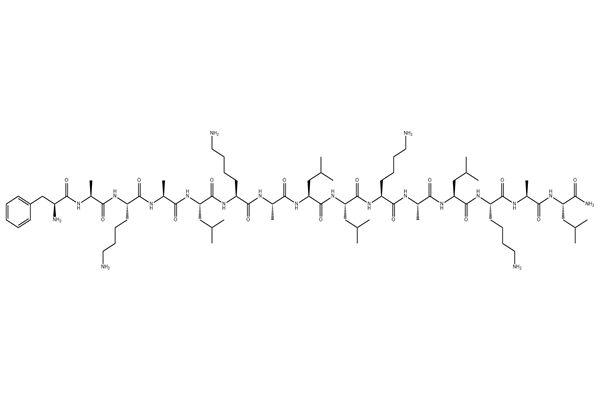 | | |
| --- | --- |
| English name | Oligopeptide-10 |
| Chinese name | 寡肽-10 |
| CAS NO | 466691-40-7 |
| Peptide sequence | Phe-Ala-Lys-Ala-Leu-Lys-Ala-Leu-Leu-Lys-Ala-Leu-Lys-Ala-Leu-NH2 |
| Molecular formula | C78H140N20O15 |
| Molecular weight | 1598.1 |
| storage temperature | 2-8℃ |
| purity | ≥98% |
| Package | 1mg;5mg;10mg;50mg;100mg,1g or according to customer's detail requirement. |
| Product English synonyms | Oligopeptide-10;Oligopeptide-10, Granactive ACNE;L-Leucinamide, L-phenylalanyl-L-alanyl-L-lysyl-L-alanyl-L-leucyl-L-lysyl-L-alanyl-L-leucyl-L-leucyl-L-lysyl-L-alanyl-L-leucyl-L-lysyl-L-alanyl- |
Introduction to Oligopeptide-10
Oligopeptide-10 is a biobacterial peptide derived from plant amino acids, highly synergistic with salicylic acid, Oligopeptide-10 can be used in numerous acne products to strengthen the natural defense system. Studies have shown that Oligopeptide-10 has broad-spectrum activity against many types of organisms.
Mechanism of Oligopeptide-10
Oligopeptide-10 has potent activity against P. acnes causing rapid cell death. It binds to a negatively charged bacterial surface element (lipoteichoic acid), enabling access to its primary target, the cytoplasmic membrane that causes lethal osmotic imbalances within bacteria. Due to this unique mechanistic mechanism of action, the potential for bacteria to develop resistance is very low, while bacteria resistant to other antibiotics remain susceptible to oligopeptide-10. In addition, oligopeptide-10 neutralizes pro-inflammatory bacterial components and reduces redness. Independent studies have shown that oligopeptide-10 is non-cytotoxic, non-mutagenic, non-irritating and non-sensitizing.
How to buy  Oligopeptide-10 in the U. S.
Peptide supplier remetide specializes in the production and sales of It in the USA. Professional Drug peptide R&D.Professional drug peptide seller. Welcome your purchase
Hot line:+19498788363
Wechat:americhina
Email:amin@remetide.com