Introduction from Drug peptide supply about Angiotensin III/ANGIOTENSIN III ACETATE/13602-53-4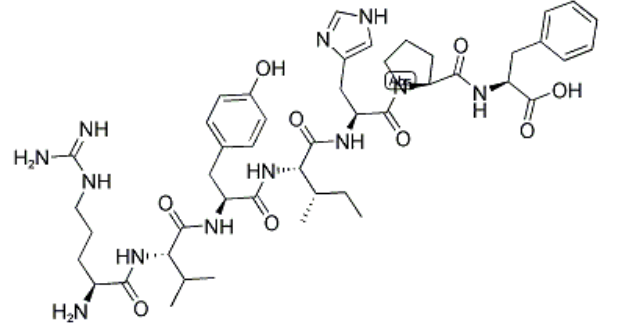 | | |
| --- | --- |
| English name | Angiotensin III |
| Chinese name | 血管紧张素III |
| CAS NO | 13602-53-4 |
| Peptide sequence | Arg-Val-Tyr-Ile-His-Pro-Phe |
| Molecular formula | C46H66N12O9 |
| Molecular weight | 931.09 |
| storage temperature | 2-8℃ |
| purity | ≥98% |
| Package | 1mg;5mg;10mg;50mg;100mg,1g or according to customer's detail requirement. |
| Product English synonyms | ANGIOTENSIN III ACETATE SALT |
What is Angiotensin III?
Angiotensin III, human, mouse is a heptapeptide that is an angiotensin type 2 receptor (AT2R) agonist with IC50 values of 0.648 nM and 21.1 nM for AT2R and AT1R, respectively.
How to buy Angiotensin III  in the U. S.
Remetide Peptide Supplier specializes in the production and sales of peptides in the USA, as well as professional peptide R&D. Feel free to contact us if you have any questions or inquiries about Angiotensin III Peptides.
Hot line:+19498788363
Wechat:americhina
Email:amin@remetide.com